Registration
The last day to register online is Friday February 9th
Early Packet Pickup/Late Registration
Location: New Balance Raleigh, located in Pleasant Valley Promenade
6204-121 Glenwood Avenue
Raleigh, NC 27612
When: Saturday, February 10, 2018
Time: 2-6pm
Race Day: Sunday, February 11, 2018
Location: Dorothea Dix Park - west side of Spruill Building
805 Ruggles Dr, Raleigh, NC
12:30 PM - Race Day Registration and Packet Pickup starts
2:00 PM - 5K Start
3:00 PM - Kids Fun Runs Start
3:15 PM - Awards

New and Exciting

Calling all fast men and women! Ladies, think you can out run a man? Boys, think you can chase down a girl? Participate in this new exciting side event. A small group of elite women runners (8 minute pace or faster) will start before the rest of the field and be chased by the elite men. The object of this pursuit race is to be the first person to cross the finish line. Women will have a 2:30 minute head start with the first person to cross the finish line deemed the winner for a grand prize of $250 courtesy of 1RedShoe Realty. This will not affect the overall winners (by gender) or age group winners. There is no fee to participate, only your competitive spirit is required. You can sign up for this event on Saturday, February 10, 2018 at early packet pickup or on race day.

Course
The course is a USAT&F certified 5K loop at the lovely and scenic Dorothea Dix Park.
This 3.1 mile course will take you around beautiful open fields and through the former
occupied buildings of NC's first Psychiatric Hospital. There is plenty of parking available
on campus for all race events.
Jogging Strollers
We are a jogging stroller friendly race and participants are welcome to run or walk with jogging
strollers, we just ask that you start towards the back of the pack to allow the other runners a
clear start. Here are some helpful hints for racing with a stroller
Fundraising
We will donate a portion of the race proceeds to Canines for Veterans and
Team Red, White and Blue NC (in 2014 we donated $4000 to each charity) but you can also
raise money that will go directly to the charities using our "fundraising" service. Once you have
registered for the race you can create your own fundraising page.
Second Empire Grand Prix Series
The Run for the Roses is also the second event in the Second Empire 2018 Grand Prix Series.
Runners who participate in these races accumulate points and are awarded money and prizes
at an awards banquet held at the Second Empire Restaurant at the conclusion of the Series.
Registration Fees
$15 from Oct 2- Oct 9 (one week only!)
$20 from Oct 10 - Oct 31
$25 from Nov 1 - Jan 31
$30 from Feb 1 through race day
Special rate - $18 for all entries under 18 years old from Oct 9 through race day
NCRC members get a $5 discount and Team Red White & Blue members get a $3 discount.
** The fee includes a long sleeved shirt to all those who enter on or before February 1, 2018.
Refunds/Race Cancellation
There are no refunds for any reason.
If, for reasons out of our control (i.e. an ice storm or such), we are unable to hold the
event on the scheduled day, the race will be cancelled and not rescheduled. However,
we will make all t-shirts available to those that registered. We will make every effort to
run the race as long as it is safe to do so.
Team Competition
There also will be a 2-person team competition: 1 male and 1 female, any age, can register
as a team. They will run against other "couples" for the fastest combined course time.
There is no fee for the team competition and teams can register on Saturday, February 10, 2018
at early packet pickup or on race day.
Awards
Awards will be presented to the first three overall males, females, male masters and female masters
and to the top three finishers in each of the following age groups (male and female):
12-under, 13-19, 20-24, 25-29, 30-34, 35-39, 40-44, 45-49, 50-54, 55-59, 60-64, 65-69, 70-74, 75-79 and 80-over.

In the team competition, awards will be given to the top three teams with the fastest combined times.
First place is a $100 gift card to Second Empire Resturant.
Runologie Raffle
All race entries will be entered to win a Runologie gift card.
Must register by February 1, 2018 and must be present to win.
Raffle will be drawn during the awards presentation.
Children's Events
Face painting

100 meter dash for 6 years old and younger

400 meter dash (1/4 mile) for 6-10 years old
Registration for the Children's Races will take place on race day.
Parents are welcome and encouraged to run with their children.
All children participating in these events will receive a medal for completing their race.
These races will start at 3:00 pm.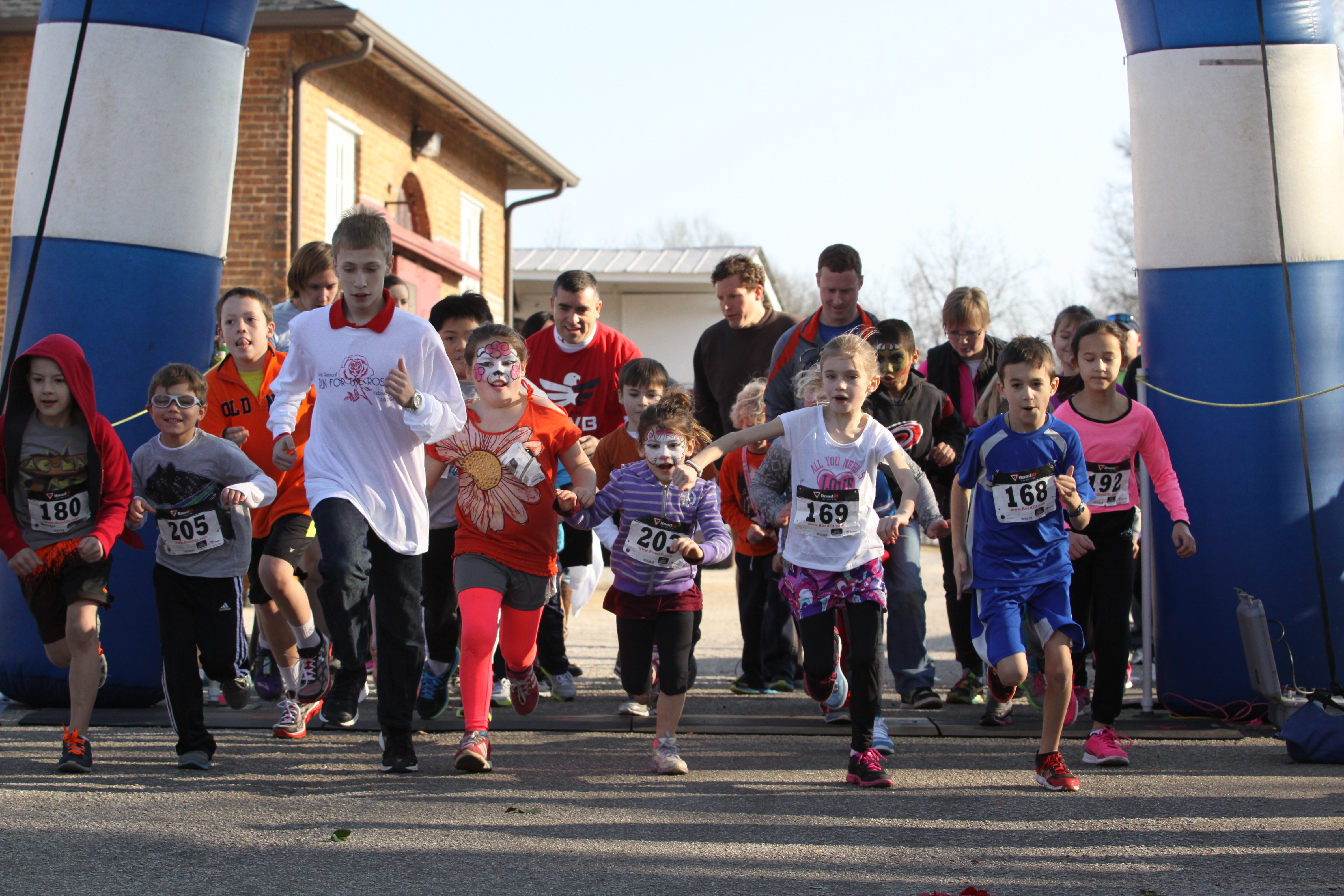 Pet Food Collections
We will be collecting pet food for the Wake County SPCA and other Animal Rescue Organizations. Please bring your donation on race day or to early packet pickup!
Sponsors
If you are interested in donating cash (100% of which will be passed on to our charities) or "in-kind" items (which will help NCRC reduce our race day costs and result in more money being donated to our charities) please contact Elizabeth Werner (run4roses@ncroadrunners.org)
Questions?
If you have any questions, please contact Elizbeth Werner at run4roses@ncroadrunners.org